The second par 5 for the gents (third for the ladies). The left to right dog-leg fairway is dominated by a tall clump of trees and bushes on the right within range of the errant tee shot – don't go too far left or you will run out of fairway. Having got a good tee shot away, the green is still not visible, with the sloping right to left fairway dropping down to it – be careful as there is a bunker on the left lying in wait for the mis-hit shot. The ideal line into the very small green is from the left side, there is a bunker guarding the approach shot from the right. The only safe route is towards the right of the green, anything landing left or long will run off over the supporting railway sleepers. This approach presents a stern test of accuracy and correct choice of club for the golfer.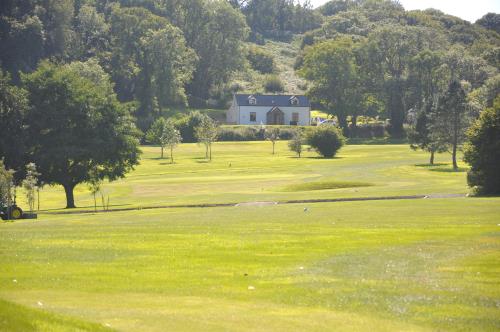 Another par 5 – not particularly long but against the prevailing wind this hole presents a great risk and reward hole, with a ditch to negotiate for a long second shot. From the tee a bunker lies in wait for the shot erring right of the fairway. The adjacent 7th fairway may seem inviting but a line of trees bars your way for the second shot. In this picture here, taken from the left hand side of the fairway with the ditch in foreground (approximately 100 yards from the the green) shows the distant green guarded by another bunker to the right. The green is a bit of an upside down saucer that runs from right to left and front to back.
The quandary on this par 4 hole is whether to take on the angle running ditch with a driver or lay up and leave a long shot into a well guarded green, with two bunkers at the entrance of the green. The green is sloping right to left and back to front and on certain parts of the green there are some terrific breaks in the putts. The picture here is looking back to the green with the second part of the fairway beyond.
If you have time, take in the view from the highest point on the course, looking out towards Tenby and Caldey Island beyond presents a lovely spectacle. Looking beyond the green the Ridgeway runs it course along the horizon.