Although a short par 4, the opening hole presents challenges off the tee. Playing into the prevailing wind the sloping left to right fairway narrows at the 200 yard mark off the gents tees. A deep hedgerow on the left awaits a shot down there. To the right a group of small trees lie in wait and beyond them there is a hazard drainage ditch. From this point up to and beyond the green (protected by two bunkers) there are ditches left and right lying in wait for the mis-hit approach shot to a green sloping from left to right. This hole presents a stern opening test.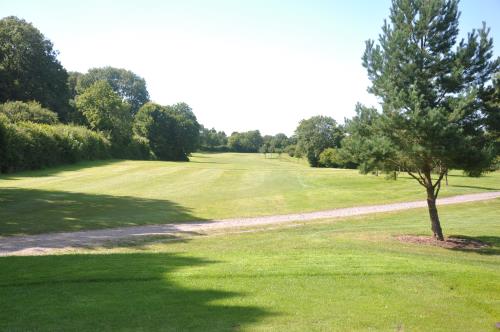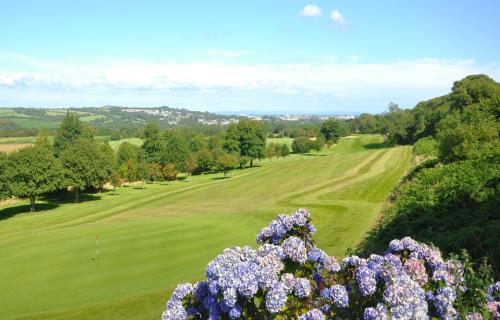 A very daunting long par 4 for the gents (par 5 for the ladies), particularly from the championship tees; seen here looking back from the green to the distant tees. The fairway slopes severely from left to right – but a tee shot that drifts left will find a lateral hazard and deep rough beyond the ditch. A pushed or sliced tee shot for the right-handed golfer will likely face a pitch back into the fairway as semi-rough and small trees prevent a well struck approach to a tricky two-tiered green. The putting surface slopes sharply from left to right and many a misguided approach in the right hand bunker.
A downhill par 3 looks inviting but woe betide going too far right into the semi-rough as it is not so easy to reach the green from there. Two bunkers left and right lie in wait for the errant shot to a green sloping left to right and front to back – a well struck tee shot is required to hold the green, although there is a bit of room beyond the green.

If you have time, take in the view from the highest point on the course, looking out towards Tenby and Caldey Island beyond presents a lovely spectacle. Looking beyond the green the Ridgeway runs it course along the horizon.