A par 5 for the ladies and gents. The generous fairway dog-legs first downhill to the left and then uphill to the right. A fairway bunker will greet a mis-drive for the longer hitter attempting to cut the corner. Two more bunkers left and right, out of sight beyond the ridge past the marker, are situated 80 yards short of the green. Finally, the approach shot has to be deftly handled as the big green slopes from front to back, seen here from the 150 yard mark.

Don't be too disappointed to come off with a one over par 6.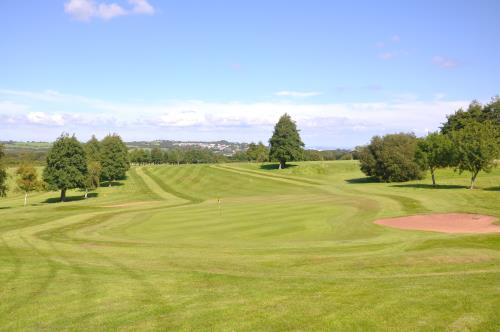 A long par 4, dog-legging right to left to a green not visible from the tee, the marker is a good guide. Past the marker the distance long green is guarded by two bunkers left and right. The view here is looking back from the green up the fairway. This green is difficult to read and even confuses many members!
The second par 3 where the green is not visible from the tee, although the top of the flag can be seen and there is a marker post at the back of a green. The overhit shot gathers the ball up from right to left taking the ball to the back of the green and even through. The view of the green here from the left side shows one of the two bunkers guarding that side.
If you have time, take in the view from the highest point on the course, looking out towards Tenby and Caldey Island beyond presents a lovely spectacle. Looking beyond the green the Ridgeway runs it course along the horizon.