A slightly uphill par 3 offering a generous green, seen here from behind the green looking back to the tee. The green is guarded by two bunkers at the front with a third bunker behind the front right bunker not seen from the tee. The hole is fairly open and gives you a chance to recover if you make a mistake off the tee. The green slopes from right to left and from back to front. Depending on where the pin is placed you can have some quick putts and slow coming back on this hole. Good chance of a birdie.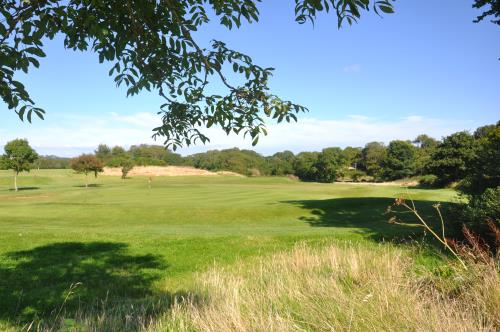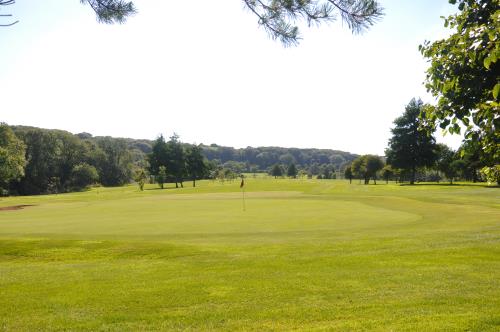 This long par 4 slight dogleg from left to right has a generous fairway, with plenty of space to the left and right off the tee. The second shot tends to be fairly long into a green running away from you, seen here looking back down the fairway from the green. There are no hazards but be careful of putting your second or approach shot to the left as the semi-rough is not that forgiving, also the trees can cause severe problems.
A monster of a par 5, nearly 600 yards off the back tee is a daunting prospect coming at the end of your round. The main danger from your tee shot is to the right with trees and thick rough lying in wait. There is generous space to the left of the fairway that bends slightly to the left around the 200 yard mark when the distant green comes into view as seen here. If the wind is blowing strong in the prevailing direction this hole is extremely long and tough and plays more a par 6 then. The clubhouse to the left of the green looks very inviting on a sunny day where members and guests can be seen enjoying a drink on the terrace. What a nice way to finish your round.
If you have time, take in the view from the highest point on the course, looking out towards Tenby and Caldey Island beyond presents a lovely spectacle. Looking beyond the green the Ridgeway runs it course along the horizon.