A short par 4 hole with a left hand dogleg makes the small green barely visible from the tee. A tricky downhill hole, the narrow green front to back, is protected by a front bunker and a ditch at the back. There are two trees and a ditch dominating the tee shot, with a grand oak tree and its branches around 150 yards from the tee protecting the left side of the fairway. The longer hitters should consider a hybrid/iron as a hidden ditch around 250 yards from the tee awaits.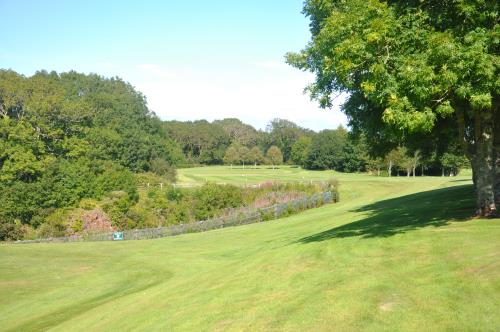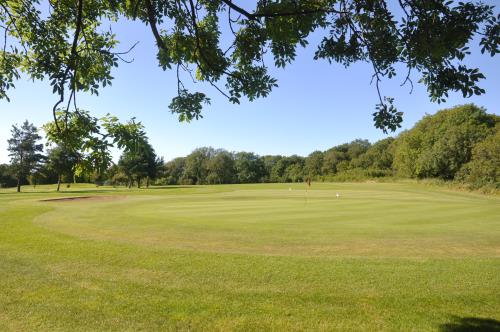 A dogleg left to right par 4 has a generous fairway, the difficulty comes with your approach shot to the green. There is a bunker short left of the gre gathering any run offs the sloppy green. Pictured here from behind the green, looking back to the apex of the fairway dogleg in the distance. The green slopes from right to left and to the back; when the going is quick in the summer if the ball hits the green it veers sharply to the left and to the back. Use local knowledge, drop your approach short and right to run it on to the green; even then you could be taken by surprise the amount of movement when the ball reaches green – a hole to test your resolve.
A very picturesque hole looking down to the green as seen here in the photo; this par 4 sharp dogleg right to left dropping down steeply at the dogleg apex to green, guarded by a ditch in front of the green and two bunkers right and left, with a small pond awaiting the overhit approach shot. The danger from the tee lurks all the way to the left up to where the hole turns. The temptation for the really big hitters is to take on the tiger line straight over the trees to the left. Rather you than me! Most golfers lay up to the apex but a pushed tee shot can leave a very daunting long iron/hybrid into the green.
If you have time, take in the view from the highest point on the course, looking out towards Tenby and Caldey Island beyond presents a lovely spectacle. Looking beyond the green the Ridgeway runs it course along the horizon.